Jarrell Police Department Operation Blue Santa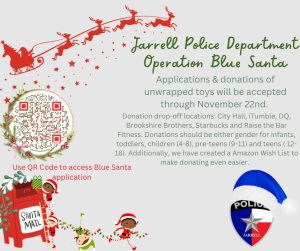 Operation Blue Santa Kicks Off Early!
We're thrilled to announce that this year, we're getting a head start on spreading holiday cheer! Our dedicated officers, in collaboration with our wonderful community, have decided to launch Operation Blue Santa earlier than ever before. Let's make this holiday season even brighter for those in need!
We'll be collecting donations and gifts for families who could use a little extra support during this festive time of year. We encourage everyone to join us in making a difference in the lives of those less fortunate. Whether it's a small donation or volunteering your time, every contribution counts!
Let's make this holiday season one to remember for everyone in our community!
If you're a family in need residing within the city limits of Jarrell, Operation Blue Santa is here to lend a helping hand this holiday season. For those residing outside our city limits, Williamson County's Brown Santa program is available to assist you. Rest assured, both Brown Santa and Blue Santa collaborate closely to ensure all families have a chance to receive the support they need. To streamline the process and extend help to as many families as possible, we kindly request that you apply to the appropriate program, choosing only one.
Please refer to the city
map
to explore the geographical layout within the city limits of Jarrell. Additionally, utilize the address search feature to determine if your residence falls within a Municipal Utility District (MUD) or within the city limits. If you do reside within a MUD, please make sure to apply with the Williamson County Sheriff's Brown Santa program.
Link to our Amazon Wish List
List of Subdivisions within the city limits of Jarrell
• Old Town
• Homeplace
• Calumet
• Balcones
• Eastern Wells
• Stonebridge
• Meadow Valley Loop
• Park Meadow
• Double Creek
• 487 Estates
• Hunter's Glen
• Stone Crown
• Canyon Ranch
• Sierra G