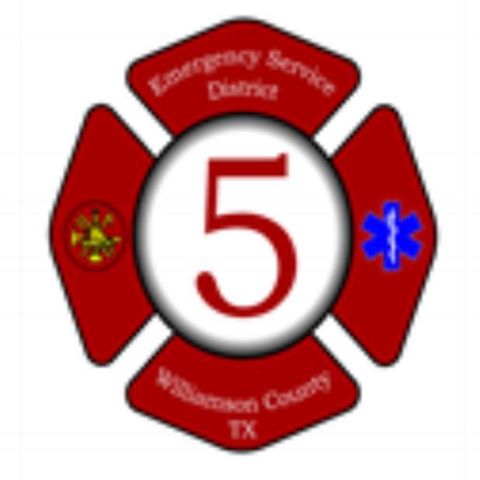 Phone
Social Media
Position
Williamson County
Fire Department ESD #5
You can visit the Jarrell Fire Department's website by clicking here.
In the year 1953, the members of the Jarrell Volunteer fire department began delivering services to the residents of Jarrell and the surrounding areas. These services were delivered by people dedicated to serving their community and those passing through it.
Since the inception of Williamson County Emergency Services District in 2001, many things have changed. However, one thing that remains the same is our service to the community.
Whereas the department is primarily career as opposed to volunteer personnel and there is no longer a "V" in our department name, we strive to honor the spirit of service built by those volunteers who gave of their time and effort in serving their fellow man.
Today, Williamson County ESD 5/Jarrell Fire Department, provides fire, rescue, and emergency medical first responder service to 75 square miles of north Williamson County, Texas which includes the City of Jarrell, the Sonterra Community, Live Oak, Green Acres and Corn Hill communities to name a few, as well as agricultural properties, quarries, and businesses. The district also covers a 13 mile stretch of the IH-35 corridor.
The district is covered out of a single station which is staffed with four career fire fighters 24 hours a day, 365 days a year who respond to all alarms in the district. The department is comprised of 12 operational fire fighters, the Fire Chief and the Fire Marshal. All of our career firefighters are professionally trained and certified with the Texas Commission on Fire Protection and the Texas Department of State Health Services.
Our fleet includes 2 engine companies, a 1500-gallon water tender, a brush truck and a squad. These units are dispatched by on duty personnel according to the type of call received.
The district is funded by an ad valorem property tax of 10 cents per $100 of appraised property value. For example, a property that is valued at $100,000 will provide $100 per year to the district. The district is also funded by a 2% sales tax in areas of our district that lie outside the Jarrell city limits.
These funds are used to pay employees, make building payments, provide necessary insurance including workers compensation, pay utilities, provide training, repair and fuel vehicles, and provide proper protective gear and firefighting tools.
As you can imagine, the district is challenged to cover a large area and thousands of individuals with few resources. The District endeavors to be frugal, creative and prudent with taxpayer money. With the growth that is occurring in the area comes a growth in the number of requests for assistance.
The District is governed by a 5-member board of commissioners that meet monthly to ensure proper fiscal oversight of the taxpayer money.
We the employees of Jarrell Fire Department/ ESD 5 are proud to be your public servants that are willing to give our very best to those that call for assistance. We are thankful for the support of the residents and business owners in our district.
We thank you for visiting our website and hope that it has been useful to you.
Respectfully, Mark McAdams, Fire Chief