The City of Jarrell 2022 Consumer Confidence Report for Public Water System (CCR) is now available at City Of Jarrell 2022 Drinking Water Quality Report
For information on the Texas Landowner's Bill of Rights, please Click Here .
   Join us for the City of Jarrell Christmas Festival - Vendor Applications - Click here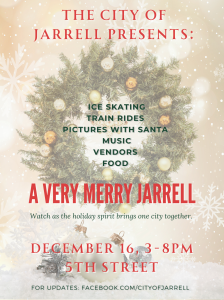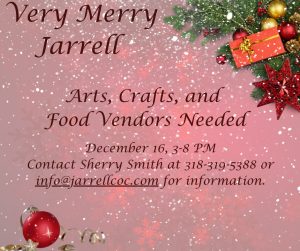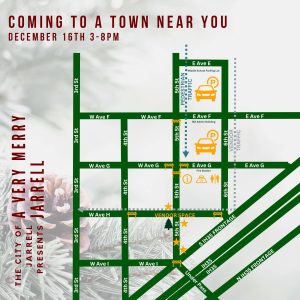 On August 28, 2023, the City Council Approved a Tax Rate Of $0.414004 For the 2023-2024 Fiscal Year Budget. This Tax Rate Will Raise More Taxes for Maintenance and Operations Than Last Year's Tax Rate.  The Tax Rate Will Effectively Be Raised By 81.045% Percent and Will Raise Taxes for Maintenance Operations on A $100,000 Home by Approximately $84.88.
M/O Rate - $0.189608        I/S Rate $0.224396               Total Rate - $0.414004
The City of Jarrell and Tornado Sirens
Williamson County sits in the most south part of what is known as "Tornado Alley". This community has suffered through a direct hit from an F5 tornado in 1997, as well as several minor tornadoes and straight-line wind events in recent years.
While Tornados sirens are a good tool, Tornado sirens are intended to be heard by people who are outdoors and within earshot of the siren.  Tornado sirens are not designed to alert people who are indoors, people outdoors wearing headphones or ear pods enjoying music or even in windy environments.
For additional information on Tornado Sirens, click HERE.
For additional information on Warn Central Texas, click HERE or you can click on the Warn Central Texas icon to subscribe for weather alerts.